The Joyful Sound!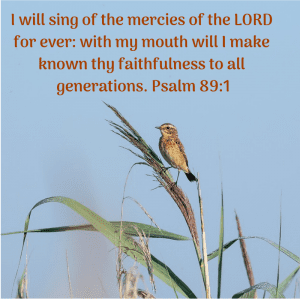 Almost every Sunday we sing hymns at church that I have recorded. I so greatly enjoy singing with our congregation full of awesome voices and musicians. It is like a giant choir of beautiful melodies and harmonies blending together in praise and thanksgiving to the Lord.
We enjoy praying together too, led by our Pastor. Hearing him pray during Sunday morning worship is always a blessing to my heart. This verse is a good description of what happened in church on Sunday.
Psalms 89:7, God is greatly to be feared in the assembly of the saints, and to be had in reverence of all them that are about him (KJV)
The fear of God in this case would mean knowing His presence in every part of your life. To reverence is to honor the Lord. Singing the words of the Old Hymns of the Faith, full of praise and the great doctrines of the Bible, with reverence and worship to the Lord is pure joy of spirit.
The Psalmist takes this concept further,
Psalm 89:15 "Blessed is the people that know the joyful sound: they shall walk, O LORD, in the light of thy countenance.
16 In thy name shall they rejoice all the day: and in thy righteousness shall they be exalted."
When you know the joyful sound, the sound of music and praise to the Lord for His righteousness and goodness, walking in the Light of His countenance is a great benefit. This is true in the local congregation and personally. Do you sing in your heart with praise and thanksgiving throughout your day? Are you enjoying the Light of the Presence of the Lord in Your life?
Psalm 89 is full of wonderful truth about God and His goodness and righteousness. May I encourage you to read the entire Psalm. If you are not sure that you know God in your heart as your Lord and Savior, may I suggest you read John 3 in the New Testament and let Jesus explain the benefits of His love and salvation to you directly. If you have questions, you can send me a message to valerie@valerieknies.com or on the comment page.