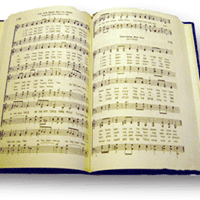 Nearly 20 years ago, Heather Ross and I made our first album together. She did all the piano arrangements and I did the singing. Of course, Ben Klaus was a great help with the instrumental arrangements on both My Master and My Friend and My Blessed Redeemer. In 2009, Pam Loggans accompanied me on My Faithful Lord. I had a great team of awesome, professional and God loving musicians working with me on all of the hymn albums.
I have been playing for many years on several Christian Radio stations in different countries, and been a part of CDBaby and Radio Airplay for digital downloads. Of course, my website, www.valerieknies.com has been featuring my physical and digital music since 2000.
Over the years, I have submitted music to several platforms for contests, publicity, etc., but never received any interest. I am not a pop or rock or jazz artist. My desire has always been to produce Music for the Gospel, to glorify and worship God.
Recently, I was catching up on my gmail and noticed it was not too late to get some free plays on my Radio Airplay station if I entered an Artists PR promotion. I was astounded this morning to get a call from Los Angeles. They chose me to be a featured artist on their website.
I call the opportunity to stream my music on Internet Radio my music tracting ministry. Many people who would never hear the gospel will when they hear the songs and hymns on my albums. My website has a Gospel presentation and lots of Scripture on it, not to mention hymns. My passion for hymns and the gospel to proclaim Jesus Christ, the Son of God and Savior of mankind are one and the same. The message of forgiveness of sin, having the God Who made you in your life, and eternal life in heaven is sweet indeed!
Whether you are a believer or not, I am always delighted to have visitors to this website.  I trust, if you do not know the Lord as your Savior, will you carefully consider His love and extraordinary gift of eternal salvation provided for you. You can go to my publications drop-down, God's Simple Plan of Salvation to learn more. Thank you for your visit. May God bless you. vak