The Lord's Prayer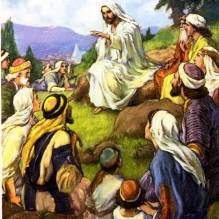 "
"The Lord's Prayer" by Albert Hay Mallott
From the album, "My Faithful Lord"
The words of "The Lord's Prayer" are actually the model prayer of Jesus Christ that He recited in His discourse regarding prayer in Matthew 6.
This then is a prayer of instruction, one of the 14 different types of prayer presented in "My Faithful Lord".
The greatest model of Christ regarding prayer was His own example.  Many times in the four gospels of the Bible we find Jesus praying to the Father.  Prayer is the breath of life in the Christian life.  You pray to the Lord and He answers you through His Word, the Holy Bible. This is a challenge to Christians to pray more.
Matthew 6:9-12, After this manner therefore pray ye:
Our Father which art in heaven, Hallowed be thy name.
10 Thy kingdom come. Thy will be done in earth, as it is in heaven.
11 Give us this day our daily bread.
12 And forgive us our debts, as we forgive our debtors.
13 And lead us not into temptation, but deliver us from evil:
For thine is the kingdom, and the power, and the glory, forever. Amen.