Meet Valerie Knies
       

One thing is for sure, I love to sing hymns.
It is my delight to stand with our church congregation and sing from my heart the beautiful and timeless messages that are found in the hymnbook.  Our church still uses hymnbooks.  I love to read all the parts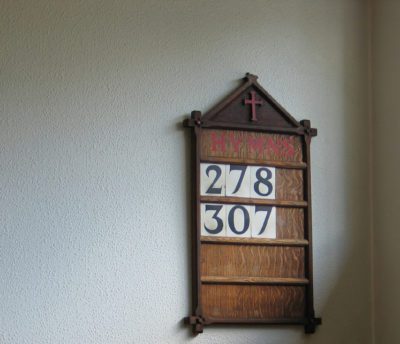 and sing them from one verse to the other.
My love for hymns began when I was a little girl singing in my church. I started going there with our neighbor when I was four years old.
Our church was very musical.  I learned many songs and choruses.  The first hymn I ever learned was "Holy, Holy, Holy", and how we little elementary children would lift our voices in song in Sunday School.
As my life progressed, I joined the adult choir when I was 14.  Then I began to sing in church doing special music shortly thereafter.  By the time I was in Bible College, I did a good amount of singing solos in church.  However, I much prefer to sing in a duet or a group.  My specialty in college as I studied to become a music teacher was actually saxophone and woodwinds, but my singing continued as I sang in one of the college choirs and greatly enjoyed my director, touring and making many friends.
I had the joy of leading a children's choir and band program right out of college.  I then returned to graduate school with my fiancée and within three years of our marriage, we left for Malaysia where we served as missionaries for four years.
After the fall of the Berlin Wall in 1999, we went to Hungary where we served for 24 years.   As my husband pastored, I worked with the Hungarians and we
established a solid foundation for Hymn-centered, God honoring music in our churches.My delight was to mentor several musicians, many from childhood, to learn to serve the Lord with music.
We did many concerts and programs and focused on weekly special music.  This ministry continues in Hungary under the capable and talented hands of those young people, who now serve the Lord as church pastors and leaders.
During our ministry years, I recorded three hymn albums. The men's quartet from our
church ministry recorded an album as well.  This was to preserve the Old Hymns of the Faith in a day when it is getting more and more difficult to find these beautiful songs of worship and praise to the Lord.
After 30 years, my husband and our family have returned to the United States where we
have pretty much started over.  I thank My Blessed Redeemer that He has been My Master and My Friend.
We continue to follow My Faithful Lord, and are excited about what He has in store for our future in Glorious Victory!
Joyfully yours,
Valerie Ann Knies
Isaiah 41:10
"Fear thou not; for I am with thee: be not dismayed; for I am thy God: I will strengthen thee; yea, I will help thee; yea, I will uphold thee with the right hand of my righteousness." kjv
**********************************
Valerie Knies lives in Honey Creek, a tiny hamlet near Burlington, Wisconsin, with her husband Jim and little dog, Munchie.
Jim and Valerie have three grown children and two grandchildren.
Valerie works as an Internet Marketer in several genres and is the storekeeper at
valornet.blog.
Personal Interests:  Singing hymns! Bible Study and serving at church, Reading Missionary Biographies and Cookbooks, Homemaking, Cooking, Gardening, and Grand-mothering.