In The Garden
From

"My Blessed Redeemer"

recording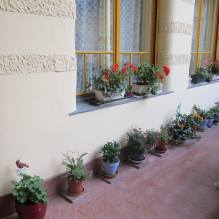 This was my unconventional garden, one of my favorites. It was in the foyer of our small apartment in Budapest, Hungary.  I like go daily to my spiritual garden, the Word of God, where the fellowship with my Lord is sweet, and the encouragement is blessed.  There is a recording of the favorite hymn of my mother, "In the Garden" that speaks of this idea. It is song #3 in my album, "My Blessed Redeemer".
The words go like this:
1. I come to the garden alone While the dew is still on the roses
And the voice I hear falling on my ear The Son of God discloses.
Refrain:  And He walks with me, and He talks with me, And He tells me I am His own;
And the joy we share as we tarry there, None other has ever known. 
2. He speaks, and the sound of His voice, Is so sweet the birds hush their singing,
And the melody that He gave to me Within my heart is ringing. Refrain
3. I'd stay in the garden with Him Though the night around me be falling,
But He bids me go; through the voice of woe His voice to me is calling. Refrain
About the hymn:
The actual account of the writing of this hymn was recorded by the composer, C. Austin Miles (1868-1946) In March of 1912 from Matthew 20:11-17, I read,
"The first day of the week cometh Mary Magdalene early, while it was yet very dark, unto the sepulcher."
Instantly, completely, there unfolded in my mind the scenes of the garden of Joseph of Arimathea.
Out of the mists of the garden comes a form, halting, hesitating, tearful, seeking, turning from side to side in bewildering amazement.
Falteringly, bearing grief in every accent, with tear-dimmed eyes, she whispers, "If thou hast borne him hence"
He speaks, and the sound of His voice is so sweet the birds hush their sing­ing.
Jesus said to her, "Mary!" Just one word from his lips, and forgotten the heartaches,
the long dreary hours.all the past blotted out in the presence of the
Living Present and the Eternal Future."